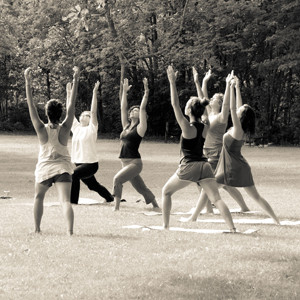 81% of all businesses with over 50 employees have a corporate wellness program.
The health and wellness of each of your employees has many long term mutual benefits.
Wellness Programs are the key to unlocking greater health, vitality and achievements such as:
Maximize Productivity & Earnings

Enhance Employee Health, Morale and Efficiency

Reduce Absenteeism and Medical Costs
Team Building Supports
Wellness Retreats and monthly Lunch 'n Learn Seminars include up to a dozen practitioners offering professional mini spa sessions.
We seek to release pain, rejuvenate vitality and optimal health to encourage wellness, reduce sick days, increase productivity, and company moral.  Allow us to create the perfect wellness program for you and your company.  Create some excitement in the lunchroom and build team spirit.
We offer seamless management of full mobile spa operations, various interactive health seminars, yoga at the workplace, which all make for an unforgettable day. We strive to inspire healthy habits and delight taste buds with delicious gourmet catering options.
Our professional team can consist of Deep Tissue Massage, Hot Stone & Thai Yoga Practitioners, Holistic Nutritionist and Yoga Instructor.
We customize care for our guests by listening to their desires and working with them to provide a high standard custom wellness program. A feedback evaluation form is offered to guests following care as we thrive and evolve with feedback.
Preventative wellness programs ensure happy, productive and healthy employees. These wellness retreats show your employees that their wellness is a principle concern. Let us take care of your employees and we will work to exceed your expectations of a Wellness Retreat or Monthly Seminars that are professional, engaging, and supportive.
Read More